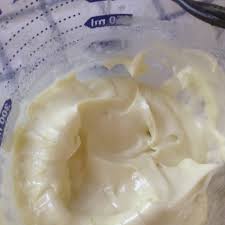 A lovely beauty recipe that is also fun to make is a Whipped Shea Body Butter. Because it is oil-based, it provides long-lasting protection and moisture. You can choose your favorite liquid oil to make it with, and your favorite essential oil blend to scent it with.
Some oils that work well in this recipe include kukui nut oil, which has soothing properties and high levels of beneficial fatty acids and grapeseed oil, which is light, non-greasy and commonly used as a massage oil.
Some excellent essential oil blends to consider for scenting the EO could include a mixture of 40 drops of spearmint EO with 20 drops of rosemary EO, for a spicy, cooling scent. Or, how about 40 drops of ginger EO with 20 drops of lemon or orange Eos, for a warming, comforting blend? Or, you could just leave the recipe unscented and let the natural scent of the shea and cocoa butters shine through.
Here is the recipe and the technique
Skin-Loving Whipped Shea Body Butter
3 ounces cocoa butter
6 ounces shea butter
3 ounces liquid oil (perhaps kukui nut oil or grapeseed oil)
60 drops of skin-safe essential oil/essential oil blend
1.Gather your ingredients and measure them out.
2.Put cocoa butter in the top of a double boiler (or Pyrex container sitting in a pan of heated water on the stove) and stir until melted.
3.Turn down heat, add shea butter, stir until melted.
4.Add liquid oil, stir until all butter and oil ingredients are well mixed.
5.Allow the melted mixture to cool at room temperature for about 10 minutes. Then put in your freezer (or outdoors, if you have freezing weather) for 20 minutes.
6.Blend mixture with a stick blender or electric blender for about 5 minutes. Place back in freezer/outdoors for another 15/20 minutes.
7.The mixture will start to turn creamy. Keep mixing and transferring back to cold temperatures until the mixture is super cold and starting to get quite firm. (Hint: Resting your mixing bowl in a larger bowl full of ice will make it easier to keep the mixture cold while mixing it and achieve the texture you want).
8.Once the mixture is about the texture you want, add in your essential oils, and beat them in well.
9.Transfer the body butter to your containers; you might find it easiest to do this by scooping it into a pastry bag (or large Ziploc-type bag with a hold in the corner) and piping it into the containers.
10.The mixture will remain firm at air-conditioned temperatures, but is subject to melting at higher temperatures. For an extra cool summer treat, store it in the refrigerator and apply chilled! (Shelf life: about six months).