ONCE YOU ASK US TO PROCESS AN ORDER, YOU AGREE TO ALL THE TERMS OUTLINED IN OUR "TERMS AND CONDITIONS" and "SHIPPING POLICIES" SECTIONS.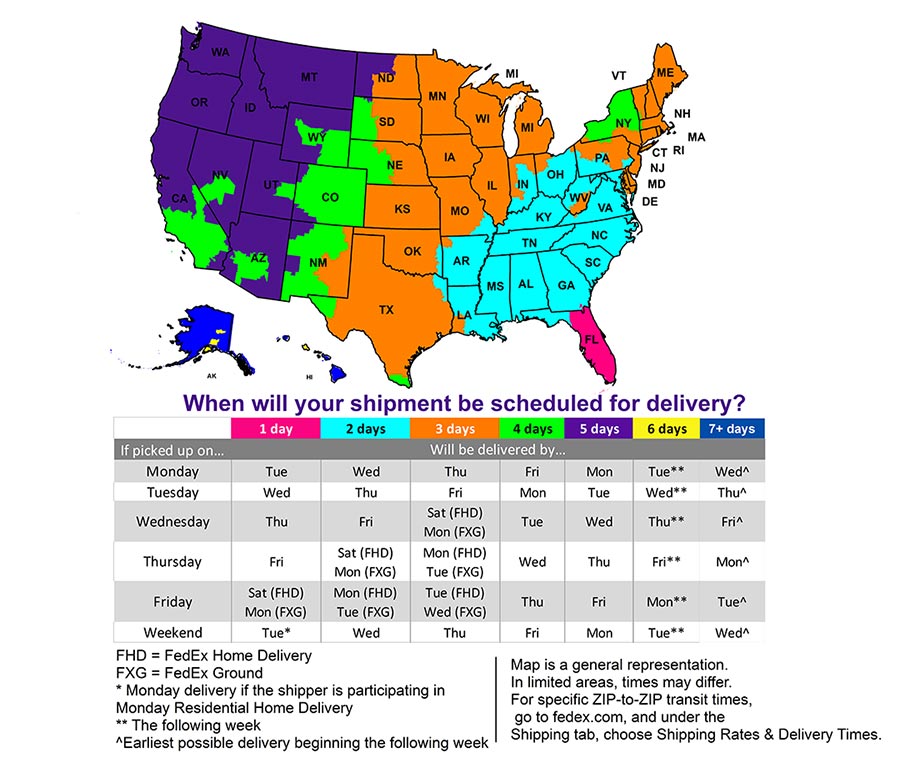 PLEASE READ: As of 9/16/20 we work Monday - Thursday and are closed on Fridays; we do not ship on Fridays. Our website is open 24/7 to serve your requirements. All Rush orders placed after 7:30 a.m. EDT on a Thursday will ship the following Monday if it's not a holiday. S&H is estimated by our cart based on delivery zip code and weight of a shipment and is never refundable. COVID ISSUES: During the Covid-19 pandemic there will not be any refunds made by us for S&H on any returned package which (1) the carrier could not deliver to the customer for any reason or (2) which was not delivered as promptly as the receiver expected. We ship parcels, we do not deliver parcels, that task belongs to FedEx and, in some instances, to USPS. We will not contact the carrier to ask why they've not yet delivered a parcel. We ship domestic parcels via FedEx, customers who experience delivery issues should contact FedEx with the tracking number at 1-800-463-3339.
MORE ISSUES DURING COVID-19: (1) Whatever else you read on our site regarding turnaround and order processing time no longer applies during Covid-19. Instead, we will post at the top of all our web pages the current turnaround time which will vary throughout the month. That's the place on our website where you will receive up-to-date information regarding turnaround time, look for a solid green line at the top of all pages. (2) We will not refund S&H on any parcels returned by FedEx or USPS because of non-delivery at your end for any reason. Our policy has always been that S&H is never refundable. Keep in mind that returned parcels also incur return charges to us, charges that will be charged to the card on file for the order. FedEx has removed all delivery service guarantees during the pandemic. (Revised 1/20/21)
Please include in the Order Comments section of our order form any short, specific delivery instructions you want your carrier to read. Please make sure that you provide a shipping address that is receiving deliveries. FedEx is no longer offering any service guarantees during Covid-19.
DELIVERY TIME: Most U.S. orders shipped via FedEx Ground/Home Delivery will be usually delivered 2 to 5 business days from ship date. Most orders within Florida are delivered next day via ground service. FedEx will email you with tracking information once we create your shipping label. Local pickups are available only for export orders and are to be made only by confirmed freight forwarders with a forwarding business ID and a verifiable business vehicle.
INTERNATIONAL CUSTOMERS: Please note that whenever we use the term S&H it means Shipping and Handling. Clientes internacionales deseamos explicarles que cuando usamos el término S&H nos referimos a gastos de embarque.
ADDRESS PROBLEMS: If the carrier cannot deliver a shipment to the address you provided on our order form due to erroneous information provided during checkout or due to Covid issues, you are responsible for all costs involved in correcting and/or re-delivering the parcel(s). Carriers charge extra for address corrections, missing suite/apartment/trailer park numbers, re-routing the parcel to an address other than the one we were originally provided and for returning to us an undeliverable or 'not picked-up' parcel. All such charges will be passed on to you as soon as we're informed of the issue, we'll charge the card used for the order. Expect to pay a minimum of $16 to $25 for any of these corrections for domestic shipments, more for international shipments...regardless of the dollar total of the original order.
CREATE AN ACCOUNT: The easiest way to order on our site and to avoid entering wrong information or misspellings is by creating an account. Once an account is created with correct information, the only other information you must enter for future orders is payment information. Our system retains shipping/billing information, not payment information. Our site is completely secure, we do not sell or share your information. By ordering under an account, you'll earn Reward Points on qualifying orders. If the order is not placed while logged into your account, Reward Points will not be awarded. We do not apply reward points manually after an order is placed.
BUSINESS OR RESIDENTIAL ADDRESS? Please select either of these choices as you proceed through checkout and please select the correct one. A business operated out of a residence is considered a residential address by FedEx.
DAMAGED SHIPMENTS, MISSING/WRONG ITEMS, WRONG ZIP, ETC.: If the carrier delivers a parcel which is visibly damaged, crushed or wet, please refuse delivery and inform us. If, after delivery, damaged items are found inside a box which appeared outwardly undamaged, we request that we be notified via the form in the Contact Us page, that you promptly send us photos of the damaged box and contents and that the carrier also be notified of the damage; the carrier may ask you to keep the box and the contents intact in case they wish to conduct an inspection. Please do not report damages via phone, they're only accepted via said form.
We allow 72 hours from receipt of a shipment for customers to notify us via email of a problem with the order or delivery. Failure to notify us within 72 hours of receipt of a damaged shipment will void any claims made by you. We will do our best to re ship promptly whatever was damaged in transit; however, we will not replace damaged items via air services regardless of the reason for the urgency. If an item is missing from a shipment or if we sent the wrong item/qty./etc., we must be notified within 72 hours of your receipt of the shipment. When the issue is a wrong item or quantity, we request that you email us photos showing a full view of the product including its label. We will not accept damaged/missing/wrong item reports once the 72 hours are up.
NOTE: Very small items such as tiny vials of essential oils are placed inside a red ziplock plastic or brown paper bag to make them stand out among all packing materials, this bag also prevents tiny items from getting lost among all the packing materials. FYI: Two separate clerks handle each order. One prepares the order, one packs. Both check off each item in the order's paperwork and write the # of items in the order + their initials. Customers who believe a product ordered was not shipped....please note that if our paperwork twice confirms that the product was included & shipped we will not ship a replacement. Please check all of the contents of the shipping box including packing peanuts and other materials. It's not unusual for a customer to email us later to inform us they found the 'missing' item or that they found it with the packing peanuts they had already discarded or that a child or adult family member had taken the item out of the box without the receiver being aware.
FEDEX SMARTPOST SHIPMENTS: In order to contain shipping costs and not have to pass excess shipping costs to our customers, we are using FedEx SmartPost for our reduced S&H option. SmartPost mostly uses USPS for the final portion of a parcel's travel. If you're not able to receive mail delivery at the shipping address provided to us, please inform us in the Order Comments section of our order form to avoid having a parcel returned. If we ship to you via SmartPost but were not informed via the order form that you cannot receive mail delivery at the shipping address you provided, subsequent shipping of the returned postal parcel will be at your expense as well as what USPS will charge to return to us the undeliverable parcel. Keep in mind when deciding your shipping option that SmartPost takes slightly longer to deliver than FedEx Ground or Home Delivery. To track a SmartPost shipment, please copy your tracking number and paste it into the FedEx website tracking space at www.fedex.com and do not track it by clicking on the tracking number sent to you in a tracking notice/email. To be able to track on USPS.com please add a 92 to the prefix and it will track via USPS.com or Fedex.com
FRAUD: Not only have we all suffered thru Covid-19's personal and financial losses through most of 2020, now at the start of 2021 numerous small businesses are suffering losses from fraudulent transactions, our company included. Unfortunately for many of our legitimate customers, the fraudsters have provided billing and shipping addresses that differ from one another as well as various other notable manners in which they've ordered certain products. As a result of these losses, effective 1/28/21 we've made immediate changes to what we will have now requested FedEx not to do with our shipments and we've also added a notation during our checkout informing customers that we reserve the right to request legible copies of driver's licenses and front/back of credit/debit cards before we'll process and ship an order on which we have doubts as to the legitimacy of the order and payment method. You may want to review the paragraph in this page titled REROUTED, REDIRECTED, HOLD AT DEPOT SHIPMENTS.
HANDLING CHARGE: All our shipments have a small handling fee built into the S&H quote provided by our cart, the handling charge is per parcel in a shipment. Should final S&H be more than our cart estimated, we'll either charge the card on file or, if you paid with PayPal, ask you to disburse the needed funds via PayPal before we can ship. For all shipments: Should a shipment require more than one box or very large boxes or unusual amounts of cushioning materials we will charge the card on file for any additional shipping and/or handling charges due or, if you paid with PayPal, ask you to disburse the needed funds via PayPal before we can ship. For unusual shipments, final S&H cannot be obtained until the order is processed, packed and weighed.
HAZARDOUS/FLAMMABLE MATERIALS VIA MAIL OR INTERNATIONALLY: All hazmat products we offer are clearly marked as being hazmat. Those products must not be ordered if the order will ship to a freight forwarder or if we're to ship outside the contiguous U.S. If you insist on ordering hazmat items for such an order, you will be asked to replace the hazmat items in the order with non hazmat items that add up very close in price to the same dollar amount as the hazmat items, the maximum number of replacement products we'll accept is three. We do not allow order cancellations.
HAZMATS TO AK, HI, PR and VI via USPS: As of 7/20/19 are no longer being processed, please do not select hazmat products if we're to ship to any of these locations.
INTERNATIONAL ORDERS: We ship worldwide. Our shopping cart is set up to provide an estimate of S&H via FedEx Air. The customer is responsible for all import duties, brokerage fees and taxes upon arrival at the country of destination. Canadian customers will be billed separately (after we ship and receive FedEx invoices) for any future Canadian clearance fees the shipment is assessed, even if we're billed by FedEx several weeks after we ship. If we're invoiced by the carrier for any additional fees for your shipment, we will charge the card on file for the additional amount. We do not prepare NAFTA forms.
Please note that hazardous materials regulations apply to air & ocean shipments. We ask that all customers whose orders will ship outside the contiguous U.S. pay particular attention to the hazmat notice provided for each hazmat product. Our shopping cart is set up to provide a S&H quote for international shipments via FedEx Air, but we won't know exactly how much S&H charges will actually be until the order is packed and weighed. We will charge the card on file for any additional funds due for S&H. We do not accept order cancellations because you do not agree with final S&H costs. Please make sure you fully understand our policies before ordering.
LOCAL ORDERS: Pick up option's not available, we're not open to the public, all orders placed will ship. We are located in Naples, FL
LOST SHIPMENTS: If during checkout you selected our SIGNATURE UPON DELIVERY option, as soon as we're informed that a shipment may be lost within the carrier's system or has not been delivered by the carrier by the expected delivery date we will proceed to contact the carrier who will place a tracer on the package. The carrier asks that we allow 8 business days for a tracer to be completed. On numerous occasions a package has turned up before the 8 days are up. Please be advised that regardless of whatever upcoming function you may have for which the lost products are needed we cannot replace a lost shipment using air service. Note also that once a tracer is initiated we cannot send a replacement shipment but must wait for the tracer to be completed. We did not lose or mis-deliver the parcel, the carrier did, please do not blame us for this type of situation. You might also want to read the paragraph titled SIGNATURE UPON DELIVERY which appears further below.
However, if you did not select and purchase our "signature upon delivery" option we'll not be able to assist you with a claim against the carrier for a misdelivered or stolen after delivery issue, please become familiar with this option. The loss will then become a matter to be resolved between you and the carrier, we will not be involved in resolving the issue.
PRECAUTIONS: We are not responsible for any empty or filled bottle which breaks or explodes after receipt. We recommend that none of our products be left in a hot car or in the sun as they will be affected and some might even explode. Before you fill any of our empty containers, please check them over carefully. When the bottles and jars left our warehouse they were in perfect condition without cracks or breaks. We take great care in packaging fragile items in order to prevent breakage while in transit to the customer. However, sometimes products such as glass bottles or glass jars or rigid plastic jars may develop hairline cracks during transit and when the customer fills them with liquids they notice that the jar or bottle may leak.
Should any damages be found with any products inside the shipping box, the customer must contact the carrier, initiate a claim and then notify us using the form provided in the Contact Us page so there's a written record of the problem. Once the claim has been approved by the carrier we can proceed to replace the items involved in the claim, not before. If too much time has elapsed since the package was delivered and you failed to report or notice any defects within the allowed 72 hours, the carrier may not honor the claim and this is why we strongly encourage all customers to go through their complete shipment upon delivery, not weeks or months later. Essential oils shipped in the past in pharmaceutical grade amber bottles or in other plastic containers must be transferred to amber glass upon arrival, it's not recommended that they be stored in plastic bottles or containers indefinitely. Those bottles were fine for a short transit time but not for extended storage. Essential oils shipped in aluminum bottles may safely remain inside those bottles indefinitely, tightly sealed, away from heat sources.
PROCESSING TIME: Please read the paragraph titled "Delivery Time" which appears at the beginning of this Shipping section. Please understand how we log in and process orders. We strive to ship within 3 business days of an order being logged into our system. However, as also mentioned in this page, our turnaround time may increase or decrease based on order volume and time of year along with Covid-19 issues, this information is always posted on our Home page.
Orders are logged in the next business day after they're submitted through our website. Effective 9/23/20 orders submitted after 7:30 a.m. EDT on Thursdays, holidays, on days we're closed and on weekends are logged in the next business day. There are times when order processing may be additionally delayed due to an extremely high volume of orders, to holidays or to weather conditions; we appreciate your understanding when this occurs.
During very heavy periods, such as Thanksgiving, Christmas, the months of September thru early January, Mother's Day, as well as when we close during holidays or offer discount promotions, customers must allow additional days for an order to be processed and shipped; please plan your orders accordingly. We offer a Rush service which you may select at checkout. Please remember that you must allow time in transit for an order to reach you, we're located in SW Florida, zip code 33912. Please do not wait until the last minute to place your order, please plan your purchases so you will not be disappointed should a delay occur in order processing, if an item is out of stock or if your shipment is damaged, lost or delayed due to weather or delivery issues.
PUERTO RICO SHIPMENTS: It is important that you supply us with the "urbanización" for street addresses in Puerto Rico (PR). If we're to ship to a P.O. Box we don't require the "urbanización". However, we'd prefer that you provide us with a p. o. box where to ship. Please provide a correct email address with your order and be sure to check your emails daily until your shipment arrives. Email is the only method through which we'll contact you. NOTE: 35 lb. pails cannot ship via USPS, only via FedEx Ground which uses 'ocean' transport.
REDUCED S&H OPTION: This reduced rate will be offered to Ground/Home Delivery shipments within the contiguous U.S. with a dollar value in products of up to $99.99 and a packed weight of under 4 lbs. We will ship the majority of reduced rate S&H orders via FedEx SmartPost, but occasionally we may ship via FedEx Ground/Home Delivery if it's cost effective; keep in mind that SmartPost takes slightly longer to deliver than FedEx Home Delivery or Ground. When you select our reduced S&H option, you must be patient with your parcel's delivery; if you can't wait, please do not select SmartPost. How we ship orders with reduced S&H rate depends mainly on shipping costs. If your shipping address does not accept postal deliveries please DO NOT select our reduced S&H option since the parcel will probably be returned to us triggering additional costs for you. If USPS returns your parcel because your address does not receive postal deliveries, we will charge the card on file whatever USPS charges us for returning your parcel to us. Please be very aware of this before you proceed with the order.
The reduced rate S&H will be automatically offered to you by our cart if the order qualifies, meaning the parcel must weigh less than 4 lbs. once packed and meet the dollar value requirements. Please do not email us asking why you are not being offered reduced S&H. Packed weight: This does not mean you can order up to 4 lbs. in products. This means the shipment, once packed, must weigh under 4 lbs. You must take into consideration the bottles and jars in which products are packed as well as packing materials and the weight of the packing box. Should the product(s) you ordered require us to use a large box this will increase overall S&H costs because the carrier charges for parcels based on weight, box dimensions and delivery zip code. Should this occur, we'll charge the card on file for the difference between the reduced rate our cart quoted and actual S&H costs. Please be fully aware of this which may occur in rare instances. This rate is not available in conjunction with signature upon delivery, discount codes or other promotions nor is it available in conjunction with redemption of reward points. When a promotion's taking place you must decide if you prefer the promotional discount offered at that time or the reduced rate S&H option, you cannot receive both. If both should be offered by our cart in error, we'll manually remove the option that provides you with the least savings and we'll charge the card on file for the reversal.
REFUSED SHIPMENTS: Should delivery of a shipment be refused for a reason not authorized in writing by us, these are the charges you will incur: (1) "Unauthorized order cancellation fee" of $25.00 for any returned/refused shipment. (2) Plus restocking charge of 20% on all products in the order. (3) Plus whatever the carrier charges for returning the refused shipment to us. The balance, if any, will be returned to you in approximately 14 business days of our receipt of the returned/refused shipment. FedEx charges $16 per parcel in a shipment for re-routes and for address corrections. It charges actual shipping costs to return to the shipper a refused or undeliverable parcel. These costs may increase at any time, we'll charge customers whatever the prevailing FedEx rates are at the time of the incident. Original S&H is never refunded.
REROUTED, REDIRECTED, HOLD AT DEPOT SHIPMENTS: As of 1/28/21 none of these options are allowed to be made to a shipment by customers. There are no exceptions to this policy. All shipments returned to us for non-delivery or for a customer's refusal to accept the shipment will incur S&H to the customer plus shipping charges for the return to us. Such charges will be charged to the card on file.
RETURNED SHIPMENTS: Shipments returned to us by the carrier for any reason that's not the fault of Camden-Grey will remain unopened for up to 15 days at our warehouse until you contact us or reply to our emails and make new delivery arrangements. You will also be responsible for return shipping costs to us by the carrier. As posted throughout our site and as you were informed during checkout, we do not allow cancellations. A returned order will not be cancelled and will remain at our warehouse until the customer contacts us during the mentioned 15 days. After 15 days of the parcel being held at our warehouse we will dismantle the shipment and mark the invoice "closed". A refund will be issued based on all of the terms explained in the REFUSED SHIPMENTS paragraph. FedEx charges $16 per parcel in a shipment for re-routes and for address corrections. It charges actual shipping costs to return to the shipper a refused or undeliverable parcel. These costs may increase at any time, we'll charge customers whatever the prevailing FedEx rate is at the time of the incident.
RUSH ORDERS: Should you require that your order be rushed and shipped sooner than our posted turnaround time, please select our Rush option during checkout. The cut off time for Rush orders is 7:30 a.m. ET to move your order ahead of all others. Please do not select Rush service if your order will ship via USPS to U.S. possessions and territories. Please do not enter a notation in your order asking us to rush your shipment or to ship ASAP if you neglected to select and pay for the Rush option. Orders without the Rush option selected and paid for will not be rushed ahead of all other orders. NOTE: A Rush shipment to ship outside the contiguous U.S. cannot ship via USPS the same day the order is placed, we must schedule a pick up online and wait for USPS to show up the next business day and they may or may not show up as scheduled. If you want your order to ship the same day under our Rush guidelines, you must select FedEx and not USPS. Effective 9/23/20 we're shipping 4 days a week Monday thru Thursday. Rush orders placed after 7:30 a.m. EDT on Thursdays will ship the next business day, at this time Friday's not a business day for us.
SALES TAX & EXPORT ORDERS: Our cart is set up to charge Florida sales tax for all shipments within Florida unless you enter your Florida sales tax number into the appropriate blank space during checkout. Once the number is entered the cart will not charge non-refundable sales tax. If yours will be an export order which (1) we'll ship to your freight forwarder (2) your forwarder will pick up at our warehouse or (3) we'll ship directly to you in your country, please enter 999999999 into the FL sales tax field to avoid being charged FL sales tax. Once charged, Florida sales tax will not be refunded.
SHIPPING CHARGES & METHODS: S&H charges are never refundable. The shopping cart provides a fairly accurate estimate of S&H charges. Due to the nature of our products and the extra care we take in packing, S&H charges initially quoted by our cart may be too low if we find that we had to use several boxes or additional packing materials to properly pack the shipment; we will charge to the card on file any additional amount owed for S&H before the order ships. If you paid with PayPal, we will ask you to disburse the balance before we ship. We will not accept a cancellation for an order already packed because you do not agree with final S&H costs. If you overpay for S&H, you will be refunded after we ship. We do not ship under a customer's FedEx or UPS account number, we don't have UPS pickups. Selecting an 'air' shipping method does not move your order ahead of all others, only selecting our Rush option does.
SIGNATURE UPON DELIVERY: As a customer goes thru our checkout process, the option to require a signature upon delivery is offered. The additional cost for signature upon delivery is $5.50 per parcel in the shipment and is well worth it. If you select this option our cart will charge you for one parcel. We'll charge the card on file for any amount due related to this option if your shipment consists of more than one parcel. If you don't opt for a signature upon delivery for a residential delivery, the carrier reserves the right to deny a claim if its records confirm the driver delivered an undamaged parcel to the shipping address but the parcel was subsequently removed or damaged by a third, unknown party. Keep in mind also that it's not unheard of for a carrier to deliver to the wrong address; demanding a signature upon delivery assists with a claim should this occur. Without a signature upon delivery it's almost impossible to hold the carrier responsible for a mis-delivery. The driver will claim he/she delivered to the correct address even though this may not be true. Without a signature upon delivery the carrier will not honor a claim and neither will Camden-Grey. Without a signature upon delivery we will not be involved in assisting customers with claim resolutions. NOTE: On certain domestic shipments with a dollar value over $499.99 FedEx will always require a signature, we will charge the card on file for this mandatory fee. The Signature Upon Delivery option is not available for SmartPost shipments, please do not select this option if you will select SmartPost.
SIGNATURE REQUIREMENTS: If you conduct business out of your home, this is considered a residential delivery. All shipments (whether or not you chose and paid during checkout for a signature upon delivery) with products valued over $499.99 will require a signature. If this is an inconvenience if you're not home during the day, perhaps we could ship to your place of business if you will provide this information in the Shipping section of the order form; please include the name of the business. We reserve the right to require a signature on any shipment regardless of value. And so does the delivery driver. The cost for the signature requirement for parcels with $499.99+ in value will be added manually to final S&H and charged to the card on file. If you owe us an additional sum for S&H, after we ship we'll email you a final, corrected invoice.
WRONG ITEMS/WRONG ORDER/WEATHER: If you receive someone else's order or wrong items with your order, please do not send the shipment back without first contacting us; please give us an opportunity to research and reply. Should you decide to ship the items back to us without our authorization, you will assume all responsibilities and expenses related to the return shipment in which case we won't be able to reimburse shipping charges you may incur; such items will be promptly discarded upon our receipt. We are not responsible for weather conditions during transit to you which may affect the products you receive or which may cause your shipment to be delayed during transit. If it's freezing outside, some of your products may arrive frozen and you should leave them at room temperature until they have returned to their normal state. If it's very hot outside, some of your products may arrive fully melted. Set them in a cool place until they return to their normal state. Temperature fluctuations while in transit will not adversely affect any of our raw materials once the raw materials return to room temperature. Returns are not accepted because products arrived frozen or melted. If either issue, too cold or too hot, is of great concern to you, please do not order during months which are very hot or very cold.
ANY OTHER QUESTIONS? Please visit our FAQ section or fill out the form provided in our Contact Us page. Thanks for visiting us!
PLEASE MAKE SURE YOU ALSO REVIEW OUR TERMS & CONDITIONS SECTION!!
(Rev. 1/28/21)