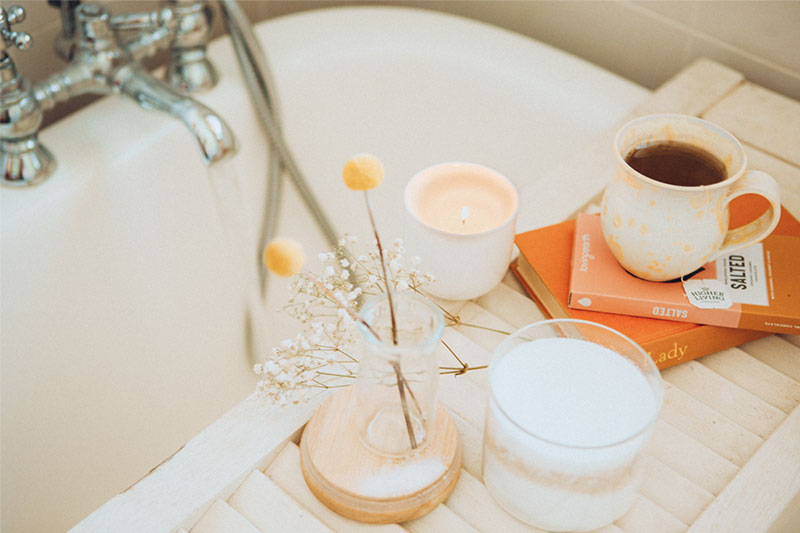 Dead Sea salt has been used in beauty practices for millennia. With that kind of track record, you can rest assured that its addition to your pampering routine will garner some positive results. Whether you're looking for smoother, softer skin, or deep relaxation, these Dead Sea salt soaks are sure to do the trick. And since relaxing and lowering stress are key components to staying healthy, these recipes will make a soak in the tub an excellent supplement to your healthcare routine.
Perfect for a Mother's Day gift or treating yourself, this recipe base is an easy and fun way to pamper someone you love. But Dead Sea salt doesn't exactly sound luxurious, so what makes it so special?
How Does Dead Sea Salt Help?
Dead Sea salt is different from other salts because of the minerals it contains. The minimal processing of the salt helps it retain many of its natural beneficial properties, and several of those properties are key to relaxing.
Magnesium. Known to treat anxiety, muscle tension, bloating, and a range of other ailments, magnesium can be absorbed through the skin and hair follicles, making it a great source of comfort in the bath.
Zinc. An effective treatment for inflammatory skin conditions like rosacea and eczema, zinc can also soothe acne, redness, and other irritation.
Bromide. An effective muscle relaxant and sedative, the bromide found in Dead Sea salt will aid in relaxation and is especially helpful just before bed. While bromide can be harmful if ingested, it's safe and effective in the form of a bath soak.
All of the 21 minerals found in Dead Sea salt will help with inflammation, purifying toxins, relaxation, and promoting cell renewal for soft skin. But beyond the salt itself, a soak in a warm bath, and the ritual leading up to it (turning on music, lighting candles, pouring a glass of wine) can all work together to encourage tranquility.
Dead Sea Salt Soak Recipes
Resources are limited for a lot of people right now, and so are gatherings. One thing that most people do have, is time for a bath. Here are some recipes that inspire relaxation and celebrate spring, making them perfect for Mother's Day gifts.
These recipes will all use the same basic formula of salts, carrier oil, and essential oils. Feel free to add a few drops of non-toxic coloring to your salts too, if you'd like. For each recipe, you'll need:
If you don't wish to damage your manicure and jewelry, wear gloves. Combine with your hands the first 3 ingredients in a large bowl, mix well.
Add essential oil(s), mix well.
Add mica, mix well.
Fill containers making sure they are airtight containers, moisture will eventually turn the salts slushy. If you have silica packets, such as those that come inside most medicines, add one to each container and remove the packet before using the salt. Silica packets are also sold online. Do not store the finished salts in plastic bags, essential oils could eat through the bag.
Tie the jar with a ribbon or twine and include a label or tag with instructions (Add 1/4-1/2 cup to warm bath water and soak for 20 minutes. Rinse off with water afterwards.)
Calming Oil Blends:
Now that you've got the base recipe down pat, you can experiment with some different essential oil combinations based on preference.
Lavender, Rosemary, Clary Sage
To relieve stress and headaches.
Lavender, Chamomile, Ylang Ylang
For a sound sleep.
Bergamot, Frankincense
To elevate mood and eliminate stress.
Frankincense, Sandalwood, Geranium
An anti-aging blend.
As we head toward Mother's Day, and social distancing continues, whipping up one of these recipes is a great way to treat the mother in your life (even if that mother is you!). If you need help picking out some essential oils, contact us!