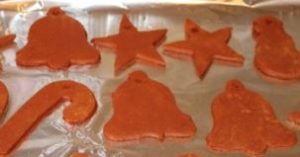 Essential Oil Scented Ornaments
——————————————
These fun cinnamon ornaments are great to do by yourself or as a group project. They are inexpensive to make and turn into a great quality (and smelling) ornament that you can hang on your own tree and enjoy for decades. They are also great as gifts or air fresheners – or even as scented gift tags on your holiday packages!
Ingredients:
1 cup apple sauce
1 cup ground cinnamon
straw
ribbon
cookie cutters
essential oils of your choice (A great holiday combination could be cinnamon, clove, ginger and sweet orange, for instance. )
Instructions:
1. Preheat oven to 200°F. Mix together 1 cup applesauce, 1 cup ground cinnamon, and 8 drops of essential oil(s) in a large mixing bowl until mixture forms into a ball.
2. Take the essential oil-infused dough ball and roll it onto a piece of parchment paper until it reaches 1/4-1/2 of an inch thick. (If you are short on counter space, divide the dough into sections and work with each section separately).
Tip: To help keep the cinnamon from sticking to the rolling-pin or table, sprinkle ground cinnamon on the table and rolling pin before rolling.
3. Take desired cookie cutters and cut into the dough. Take the cut pieces and place on baking sheet that is lined in parchment paper.
4. Take the straw and poke a hole in the top of the ornament. You will later thread your hanging ribbons through these holes when the ornaments are dry and hardened.
Tip: Leave at least a 1/4-1/2 inch space from the top of the ornament so that the hanging hole will be thick enough to bear the ornament weight.
5. Put baking sheets in preheated oven and bake for 2 1/2 hours or until ornaments are completely dry. Once they are dry, transfer them to a wire rack.
Note: You can also dry the ornaments at room temperature by carefully placing each ornament on a wire rack and letting them sit for 1 to 2 days until completely dry. Turn them occasionally during the drying process.
6. Insert ribbon through the hanging holes and tie it.
7. Hang tied ornaments onto your tree, in your car or closet, on a package, etc.
8. When done using your ornaments for the holidays, they can be stored in an airtight container. To revitalize the scent before you use them again, lightly spritz 1 or 2 drops of essential oil onto the ornament before hanging.