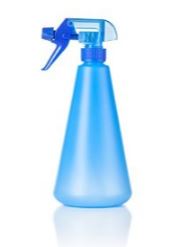 This homemade laundry spot remover does a wonderful job of removing stains (especially food stains and oily stains!) at a minimal cost. Better yet, it's environmentally friendly, smells great and is low cost.
While it "shouldn't" remove color from clothing, please always use your best judgment, test in an inconspicuous area first, and don't use it on clothing that is dry clean only or can't behandwashed, etc.
Also, please keep in mind that this recipe does not contain preservatives. Please store in a cool, dark location and discard any unused portion after a few weeks.
Ingredients:
•1 1/2 cups water
•1/4 cup liquid castile soap (available at most grocery, drug and health food stores, as well as Amazon.com)
•1/4 cup liquid vegetable glycerin (available from www.camdengrey.com!)
•5 drops of lemon essential oil (also available at www.camdengrey.com!)
Spray bottle (preferably clear, so you can see that your spray is well mixed before you spray it!)
Instructions:
1.Mix all of the ingredients together
2.To use, shake well and spray liberally on spots and stains.
3.Lightly rub the mixture into the fabric with your fingers to allow it to reach the entire area of the spot.
This spray will work best if you treat the spot immediately (preferably, while it is still wet) and allow the spot remover to soak into the fabric before washing it. In the case of serious stains, overnight soaking might even be warranted.