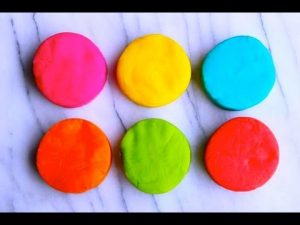 Scented Play Clay
This homemade clay is just like the commercial brand of play clay – but more fun, since you can make your own colors and scents!
It's fun to scent it with either fragrance oils or essential oils; you can create scents that match the color of the play clay which you make. For instance, peppermint essential oil works well in red or white, pine is a great scent for green clay, rootbeer fragrance oil is wonderful for brown clay, orange oil works well in orange clay, lemon oil is good for yellow clay, etc.
Of course, please make sure that the children using the play clay are old enough to understand that the clay isn't edible and also that they should n't touch their eyes, nose, mouth, etc. while playing with the clay. Please also be careful not to use essential oils that aren't safe for ingestion, such as wintergreen, and to use a safe, moderate amount of the fragrance or essential oil in your clay. Sometimes, less is more. :->
Ingredients:
1 cups flour
¼ cup salt
2 tablespoons cream of tartar
1 tablespoon oil (olive or avocado work well)
1 cup water
Instructions:
Mix all ingredients in a medium-sized cooking pot until well blended.
While stirring constantly, heat the mixture in the pot over medium-low heat until it forms a thick dough that is no longer sticky . This will take about 5 minutes.
You will be able to tell the clay is ready when it no longer sticks to the side of the pan. Instead, the dough will clump in
the middle of the pot. (Helpful hint: the dough will become progressively harder to stir as it gets near to being finished.
So, you will want to use a sturdy spoon!)
Remove the play clay from the pan and place it on waxed paper. Allow it to cool for about 5 minutes.
Divide the dough into four equal pieces.
For each of the four pieces of dough, add approximately 10 drops of liquid food color and knead well..
Add approximately 8–10 drops of different essential oils or blends to each of the four pieces of dough and knead for about 60 seconds. If you find the scent of the dough is not strong enough, add a few more drops of the essential oil or blend. (*Helpful hint: you will want to make sure the food color and essential oil/fragrance make it into the clay and don't run off. To do so, use your fingers to push a well into the center of the dough and drip the color and scent into the dough. Then knead the dough so it closes over the well opening, and carefully continue kneading until all of the scent and color are incorporated)
The dough can be stored for reuse in a zip-top plastic bag, plastic cosmetic jar with a tight fitting lid, etc.
Enjoy!