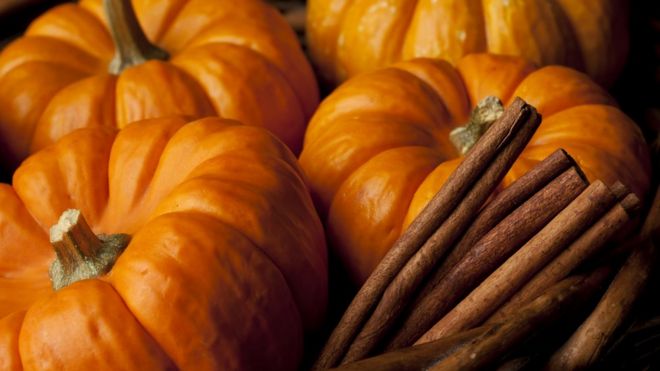 Pumpkin Spice Beauty Products for Fall
————————————————–
Pumpkins are good for so much more than practicing your carving skills! In fact, they are a great ingredient for beauty products, as pumpkin puree contains alpha-hydroxy acids (great for exfoliation), antioxidants (great for slowing down the oxidation and aging process), and beta-carotene, vitamin A and vitamin C, with anti-inflammatory and skin beautification benefits. After you have carved your pumpkin, you can make some wonderful do-it-yourself face and body treats.
To start, set aside the material you have scooped out of the inside of the pumpkin and remove the seeds. (These can be roasted and eaten, as they have some wonderful nutritional benefits of their own!) Then steam or bake the flesh of the pumpkin until it is mashable, and mash/blend it to a fine puree. (You can also just open a can of 100% pumpkin puree, if that is more your style). Here are few recipes you can use it in:
Pumpkin Honey Facial Mask
3 tablespoons pureed pumpkin
1 whipped egg white (skin toner)
1 tablespoon plain , unsweetened yogurt (exfoliant, rich in lactic acid)
1 tablespoon honey (antibacterial/moisturizer)
Mix all ingredients together well and apply to entire face, avoiding eye area. Leave on for 10 minutes before rinsing. The yogurt and pumpkin will encourage cell exfoliation and renewal, while the honey will moisturize your face and leave it feeling refreshed, moist and smooth.
Pumpkin Pie Facial Scrub
3 tablespoons pureed pumpkin
2 tablespoons plain, unsweetened yogurt (exfoliant, rich in lactic acid)
1 tablespoon ground almonds and/or oats (exfoliating)
Mix all ingredients together well and apply to face. Let scrub sit on fact for a few minutes to begin to soften dead sin cells. Then gently use your finger to massage the scrub in to the face in small, circular motions. (Avoid the eye area, as the mixture can irritate the delicate skin near the eyes). After a couple of minutes, gently rinse your face by splashing it with fresh, warm water and pat it dry. The dead, dull skin cells will wash away and your skin will be left looking and feeling fresh and moisturized.
Pumpkin Body Mask
½ cup pureed pumpkin
½ cup virgin, cold-pressed coconut oil (exfoliant, moisturizer)
½ teaspoon ground cinnamon (rich in antioxidants, anti-bacterial, wonderful scent!)
A couple of words of caution: this mixture is messy, and therefore best applied in the shower! Also, it will burn your eyes if you get it near them; please avoid applying near your eye area.
That said – mix all ingredients together thoroughly. Apply generously to clean skin (preferably, in the shower), and massage gently into your skin using your fingertips. After 10 minutes, rinse with warm water and pat your skin dry. Your skin will feel fresh, moist and smooth and you will be relaxed from the wonderful scent of pumpkin and spice. Enjoy!!!