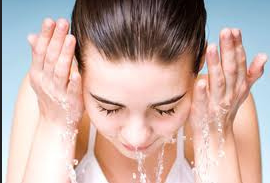 This is a simple but effective recipe that acts as a gentle (and natural!) skin scrub and cleanser. One of the beautiful things about this recipe is that you can store it for an extended period and it doesn't require a preservative.
The reason that you can do this is that it also doesn't contain any liquid (which would grow bacteria over time). Instead, it is a dry recipe which you mix with water immediately before use. (Make sure to discard any mixed, unused portion of the recipe after your weekly beauty treatment).
Ingredients:
2 cups white clay
1 cup finely ground oats
1/4 cup finely ground almonds
1/8 cup finely ground lavender
1/8 cup finely ground rose petals or lavender buds
Combine and store in airtight container, such as white plastic single or double walled cosmetic jars. To use, mix 1-2 Tablespoons with water, stir into a paste and massage into skin.
Leave on for a minute or two, then gently rinse off. Leaves skin feeling refreshed and toned. :->