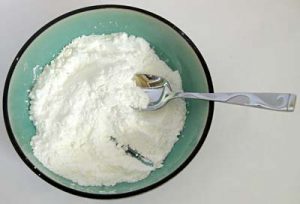 Have you seen Natrasorb on Camden-Grey's site and been curious if it would work well for you – but weren't quite sure how to use it?
Natrasorb Bath has an INCI description of just "tapioca starch". However, it is not the kind of tapioca starch you can buy in a grocery store.
Rather, it is a variety of tapioca starch that has been modified to hold a LOT of oils – both carrier oils for added moisture and essential/fragrance oils for added scent and aromatherapy benefits. It's still in a powdered state, and is hydrophilic (water loving).
Whether you make bath fizzies, bath salts or bath powder, Natrasorb can really help to enhance the fragrance in your product. You can use it, for instance, as 5% of your bath bomb recipe, and then add another 3% (by weight) of fragrance oil to the recipe.
The mixture will look like nothing has happened, but all of a sudden, it is MUCH more fragrant, and the fragrance is long lasting! You simply measure out your fragrance, add about twice that amount of Natrasorb (by weight), and mix the fragrance into the Natrasorb until it is evenly dispersed.
The mixture should not clump when you squeeze it together, but it may be slightly sticky. (Please take care to use only as much Natrasorb as you need, as using an excessive amount may cause your recipe to become too sticky and less free-flowing than you like. ) Then you blend the rest of your ingredients with your scented Natrasorb. :->
Here are some recipes using Natrasorb to get you started:
Bath Salts with Natrasorb Bath:
1 cup Epsom Salts
½ cup Sea Salt (small or medium grain will be most comfortable in the bath …)
1 Tablespoon Natrasorb Bath
20 drops essential or fragrance oils of choice
1.Start by placing the Natrasorb in a bowl and mixing in the essential oil/fragrance oil until it is fully absorbed. The mixture should resemble fine breadcrumbs.
2.Combine the essential oil/fragrance oil/Natrasorb mixture with the sea salt and Epsom salts and combine to mix well
3.Seal mixture in a humidity-proof pouch and enjoy!
Fizzing Bath Salts with Natrasorb Bath (all parts by weight):
66% Epsom Salts
20% Baking Soda
10% Citric Acid
3% Natrasorb Bath
1% essential or fragrance oils of choice
1.Follow directions in previous recipe to combine Natrasorb Bath with essential/fragrance oils.
2.Add rest of ingredient and mix.
3.Seal mixture in a humidity-proof pouch and enjoy!
P.S. There is another product called Natrasorb HFB, which serves the same basic function but has a different INCI and the added ingredients Aluminum Starch Octenylsuccinate and Acrylates Copolymer and Magnesium Carbonate. These instructions and recipes are strictly for Natrasorb Bath, not Natrasorb HFB.